Aquarium Poppers - Find The Tunes/Jamison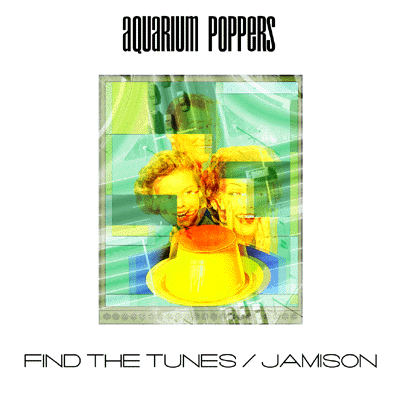 Out now!
Format: 7". 200 copies
Reviews
Broken Face, Sweden
This will probably be quite frustrating for the band to hear over and over again but it's pretty much impossible not to mention that one third of Aquarium Poppers is Øyvind Holm's (of the masterful Dipsomaniacs) youngest brother, Thor Jørgen Holm. This is not only important beacuse of Dipsomaniacs' status at the Broken Face headquarters but also since they to some extent share influences. What we get is two nice psychdelic pop tunes recorded on the 4-track back home which brings bands of a certain 90s movement to mind but Karl Morten (guitar), Thor Jørgen (vocals, bass, guitar, organ, e-bow) and Andreas (drums) shapes something quite unique. This partly comes from the unorthodox breaks and twists but perhaps more importantly the occasional escape to e-bow/organ drone terrain. This is a promising debut.

Mats Gustafson
Freecitymedia, USA
What is it about Trondheim, Norway? Not only is that small northern city home to the heroic and unpredictable Motorpsycho, but it has also spawned the psychedelic glory of the Dipsomaniacs. The scene has expanded to include several more promising bands such as Electric Jam Soul Aquarium (featuring Karl Morten Dahl) and The Chime Poppers (led by Thor Jørgen Holm, brother of Dipsomaniac Øyvind Holm). Now Dahl and Holm have collaborated with very positive results on the new Aquarium Poppers' single.

"Find The Tunes" begins in a quiet, tentative mood but quickly snaps into a rock groove. The vocals have a deep, impassioned resonance riding below the crisp treble of the guitars. The rhythm is propelled by a steady bass line and a loose, slaphappy drumming style like Gary Young's playing on early Pavement tracks. This is a solid catchy psychedelic rock song enhanced by the addition of a bittersweet tape reverse and guitar noise coda. It's always amazing when a mechanical recording trick can suggest powerful emotion.

The brief blasts of twisted feedback at the opening and ending of "Jamison" sound almost like a distant overheard orchestra. The song itself is immediately tuneful and likeable with its booming 1/8 note beat and sing-along chorus. "Jamison" has the happy confidence of some middle-period Guided by Voices songs, in control of the situation but having fun and not worrying too much about hi-fi production sheen.

I look forward to hearing more from Dahl and Holm, either together or with their individual bands. Karl Morten Dahl's Zapruder Groove records has also recently put out the 7" Zombies Tribute collection Wake Up Your Windows, Let's Do The Zombies. The buzz about that one is quite good, too.

The Aquarium Poppers' single is available from Karl Morten Dahl at kmd@fupp.net, Platekompaniet in Trondheim, and Popopdrops mailorder. In the U.S., you can order it from www.rednailmusic.com. More info can be found at 35grecords.exitflagger.com and electricjamsoulaquarium.exitflagger.com.

Review © 2001 by Nick Bensen

For some reason, a lot of Scandinavian rock and roll bands wind up sounding like stoned and/or sleepy Americans. This Danish trio is a perfect example; they sound like a bunch of guys from Milwaukee who chugged a couple of bottles of NyQuil, then fired up the Fostex.

"Find the Tunes" is a folkish rocker that sounds a little like Bob Dylan doing lo-fi; the title is oddly prophetic, as the group strays a bit from the tuneful straight-and-narrow, but this only adds to the song's shambolic charm. There's also a pleasing hint of drone near the end, and subtle evidence of e-bow.

"Jamison" is a more straightforward mid-tempo pop-rocker that sounds like an outtake from an early Monkees recording session. The jangle factor is increased here, but as with "Find the Tunes", close listening reveals a first meets the ear.

Neither tune is essential listening, and both run about a minute longer than they really should. The selling point here is the goofy stuff that's going on deep in the mix, which will help to make these songs more rewarding after multiple listens. If you have no appreciation for subtlety, or for NyQuil-loving Danes, give this a pass. -- George Zahora
Preik, Norway
Aquarium Poppers
Find the tunes/Jamison
(35g) 7"

Dette høres ut som elevene til lærer Øivind Holm når de er oppe i muntlig prøve i Dipsomani!
Aquarium Poppers har lov å feile litt for det er langt igjen til den store eksamen. Man må vel ta det for god fisk og bruke det noe slitte begrepet lo-fi i på denne sjutommeren (hvor ble det av begrepet hi-fi?).
A-sidens "Find the tunes" låter sånn passe sjarmerende surt. Den ruller av gårde på en pop-gate med et overgangsfelt som har spor etter fire ikke helt ukjente Liverpool-gutter, men helt stødig er ikke ferden.
Da sitter b-sidens "Jamison" bedre. Trioen har fanget en liten godbit der på sin 4-tracker hjemme i Trondheim. Smaker like bra som å sette tennene i noen Maryland Cookies og skylle dem ned med et glass iskald melk.
Mums!

Krister Tångring
Popopdrops, Norway
AQUARIUM POPPERS : Find The Tunes 7" 35G
Nytt lo-fi psych-folk-pop-prosjekt fra Trondheim. Med broder Thor Holm, multiinstrumentalist fra Chime Poppers og Karl Morten Dahl, lederen for heiagjenget til Dipsomaniacs og gitarist i Electric Jam Soul Aquarium. Legger seg opp mot Dipsomaniacs, men har et godt stykke igjen før de når broder Øyvind til skuldrene. Det finnes også partier her som tenderes mot Hash Jar Tempo, som gir behagelige frysninger.
Puls, Norway
Aquarium Poppers er et nytt band fra Trondheim som debuterer med en 7" kalt Find The Tunes/Jamison. Aquarium Poppers føyer seg pent inn i rekken av psykedeliske pop-band, og har nok en liten Dipsomaniacs i magen (selv om de sikkert er lei av å høre akkurat det).

Men aller først vil jeg bare si at jeg likte coveret. Det var passelig småpsykedelisk og passelig hjemmelaga og passer musikken godt. Bra jobba med andre ord.

Musikken ligger i kjent og kjært Dipsomaniacs-landskap, uten å ligne plagsomt mye. Det er lo-fi så det holder, men det oppleves som mer sjarmerende enn sjenerende. Og godt er det.

Så, hvor bra er det egentlig? Tja. "Jamison" ville sikkert kommet inn som en B-side på en Dipsomaniacs single (ta det som et kompliment). Den andre låta - "Find The Tunes" - skurrer derimot litt mer i mine ører og denne siden av 7" kommer ikke til å slite ut stiften på platespilleren min.

Alt i alt en lovende debut, og hvis de klarer å utvikle seg uten å ligne mer på allerede nevnte Dipso' så kan de nok nå et stykke. Hvor langt er enda umulig å si, men det skal bli interessant å følge dem videre.

Singelen får du tak i på Popodrops eller du kan maile til kmd@fupp.net.

Mats Larsen
Links