Aquarium Poppers - Recomander Tunes In Various Stations ep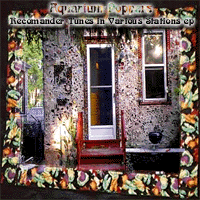 Out now!
Format: 7".
Reviews
Hailing from Trondheim, Norway, The Aquarium Poppers are equally fitted for American college radio.  Their bizarrely titled Recomander Tunes in Various Stations EP ranges from eccentric indie-psych to pub rockin' shakeups.  Like Kleenex girl Wonder, The Aquarium Poppers recall specific moments from rock history.  But they stir up their reference notes enough on songs like "Same Delight" and "Magic Luxury" that the listener is kept ever alert.  Byrds harmonies, ubiquitous organs and dirty guitars add a pleasant aura of accomplished nostalgia to the disc. 
No Soap Radio Show, USA
All Roads Lead To ...Trondheim?

Just thought I'd wake up you sleepy "heads" with a horn toot for a nifty little EP that just found it's way into my personbox. There must be something special brewing in the water up there in Trondheim, Norway. First, the new Dipsos disk teeters perilously close to the upper edges of my favorite releases from '01 and now comes this 7" EP (6 songs) from Herr Holm's kid bruddah, Thør Jørgen and Karl Morten Dahl, t/a Aquarium Poppers.

"Recomander Tunes In Various Stations" may have lost a bit in the translation (though all songs are in English), but nothing can deny the whimsical pop flowerings emanating from the grooves of their second single on local imprint, 35g.

Rose-coloured shades of The Beatles before they lost their innocence (pre-Rubber Soul) combine with lo-fi (i.e., four track), angular rhythms that will have E6 fans wetting themselves with glee (imagine if Rod Argent checked into the Neutral Milk Hotel or if the Talking Heads had a sense of humour and your getting warm.)

Organ-ic caliopes compete with backward guitars and the ghost of Lenin (as in John) is again present in the nasal utterances of number two son.

And if that's not enough the whet your collective whistles, there's the surprising appearance of an Alastair Galbraith cover, "Thoar," originally heard on Mirrorworks. Surely a first, but hopefully not the last...we'll hear from the Aq Pops!

Visit aqpop.fupp.net for more goodies.

Jeff

Aquarium Poppers-Recomander Tunes in Various Stations ep (35g)
From the opening of the ep one might think they were paying homage to Julian Koster with their mangled noise via 4 track tape loops, but then in the blink of an eye they come out with a sound not heard since the Chills on their song "Same Delight". The ep is over a bit too soon really, even if it is 6 tracks, I am ready to hear these two guys put out a full length. Also I'd like to give big amounts of praise for taking on an Alastair Galbraith song. If you dig the elephant six west or the perfect pop label then this is made with you in mind. Mike Turner

Aquarium Poppers "Recomander Tunes In Various Stations" 7" 6-song EP (35g Records, www.exitflagger.com/) This band is mainly Thor Jørgen Holm and Karl Morten of Trondheim, Norway. They have a similar love of classic late sixties psychedelic pop that their neighbor (and brother in Thor Jørgen) Øyvind Holm of Dipsomaniacs also shares. There's a nice West Coast warmth and melodic folkishness that permeates the songs here. "All Clues Implied" is a tasty experimental sound intro to "Same Delight" which is a melodic hypnotic Byrds/Beau Brummels-like jangle, "Magic Luxury" is a sort of GBV/Badfinger brilliantly compressed pop. "Trapin, I'm Sorry" is a fascinating combination of Beach Boys-like elements in a middle-eastern slinky Teardrop Explodes mode. "Comic Thrill (aka the Freak)" is the most reminiscent of his older brother's work, and a real captivating strum indeed. This sterling EP ends with an appropriately stunned version of Alastair Galbraith's "Thoar".

George Parsons

Two notable Trondheim-based musicians, Thor Jurgen Holm from Chime Poppers and Karl Morten Dahl from Electric Jam Soul Aquarium, join forces for a second time under the name Aquarium Poppers. Holm, now 18, was a musical prodigy who started writing songs at the age of six. He also happens to be the younger brother of the Dipsomaniacs? ?yvind Holm. Dahl, 27, is known for his creative recording style (including some wild Guided by Voices covers), his work in coordinating several tribute collections, and the excellent music site exitflagger.com.

Recomander Tunes In Various Stations develops on the promise of Aq Pop?s first single "Find The Tunes"/"Jamison". Dahl and Holm bring the best attributes of their other projects to the Aq Pop sound, a combination of solid catchy songs and playful production. The harmonies have the proper ragged edge and the guitars ring out in a style somewhere between The Byrds and Pavement. Given the backgrounds of those involved, Dipsomaniacs and Guided by Voices comparisons are inevitable (and somewhat valid in a broad sense).

The first song "All Clues Implied" combines e-bow and tape-reverse effects with tuneful guitar and piano. The laid-back groove of "Same Delight" has a Yo La Tengo quality while "Magic Luxury" uses early 60s pop elements in a 70s rock context recalling Bowie and Mott The Hoople. "Trapin" begins with some Beach Boys harmonies and then turns toward new wave with a dexterous Casio keyboard line and echoing minimalist percussion. A quiet acoustic guitar builds to a full band chorus on "Comic Thrill", the only song on the EP that really sounds much like both the Dipsomaniacs and Guided By Voices. The final track, a brief but well-observed cover of Alastair Galbraith's "Thoar" will likely be a treat for many BF readers. As Karl Morten Dahl told me recently, Aq Pop works from the angle that the song is the most important thing and the arrangement should follow the song's mood. He and Thor Jørgen Holm clearly have a great respect for the psych/pop song style. More info (including cover art and mp3 clips) can be found at 35grecords.exitflagger.com.
Mute, Norway, #2/2002
Denne skiva fra de psykedeliske trønderne i Aquarium Poppers har vært ute ei god stund, men fortjenter mer oppmerksomhet enn det minimale den har fått.

60-tallet slipper vi nok aldri unna. Sjøl synes jeg det alltid er facinerende når helt unge folk omfavner dette tiåret, folk som på ingen måte vare påtenkt før 1970, knapt 1980. Men det finnes tenåringer som sverger til deltablues fra 20-tallet også, så det er mange små tidsmaskiner der ute, mest sannsynlig kalt platesamlinger til foreldre og vel også etter hvert besteforeldre.

Enkelte påstår at all bra musikk ble laget på 60-tallet, noe jeg ikke akkurat kan være enig i, men at grunnlaget for veldig mye god pop og rock ble dyrket frem da, det kan jeg skrive under på. Jeg var tross alt med på den tida, men det er nok først i ettertid jeg har skjønt hvor stort det tiåret egentlig var.

En av de mest spesielle retningene, som var både tidstypisk og samtidig føles frisk og tidløs idag, var pop/psych (popsike), som starta rundt 1965, og da fortrinnsvis i Storbritannia, med Swingin' London som et naturlig sentrum. Den gang var det kun et fåtall skiver som kom fram i lyset, men fra slutten av 70-tallet og fremover har det flommet over av samlinger med obskure band på rekke og rad. Mye av dette kunne sikkert godt ha blitt glemt, men det er nok å sjekke ut 4CD boksen "Nuggets vol. 2" for å skjønne at veldig mye var grensesprengende bra.

Bortsett fra de mest psykedeliske hjernene innen Perfect Pop-miljøet er det ikke så altfor mange som driver med dette i Norge i dag. Men når man ser det fargerike coveret på denne EPen, og ser tittelen på skiva, kan dette umulig være noe annet. Her får vi seks gjennomførte, lekne lo-fi popsike-låter. Trønderne Thor Jørgen Holm fra Chime Poppers og Karl Morten Dahl fra Electric Jam Soul Aquarium utgjør denne duoen.

Disse gutta er sikkert drittlei av å høre at de ikke ligger så langt unna Dipsomaniacs, særlig på denne skivas beste låt, "Magic Luxury", men Holm er altså bror til Dipso-sjef Øyvind, så det er sikkert ikke så rart. Men Dipsomaniacs har sjelden være såpass psykedeliske som mesteparten av denne skiva her.

Uansett, alt på denne ep-en av Aquarium Poppers er ikke like bra. Noe er litt uferdig, men det er utvilsomt et artig tiltak, og jeg ser frem til flere framstøt. Gutta har en 7-tommer ute fra før. Denne nye er ute på både vinyl og CD-R.

Terje Haugli, Mute
Popopdrops, Norway, issue #38
Det er mulig det var mulig å spore en smule skepsis i vår omtale av debut-skiva. Her har imidlertid herrene Tor Holm og Karl Morten Dahl et langt bedre grep om det hele. Psych-pop i britisk tradisjon. Mer sikker på alle måter, både på vokal, orgel og piano i tillegg til gitar og slikt. Legger seg i løypa etter Dipsomaniacs, ikke like elegant og ubesværet, men det var heller ikke Dipsomaniacs da de tok fatt. 5 låter på 33 som anbefales. I et adskillig mer poppete spekter av skalaen finner vi Aquarium Poppers, som består av Thor Jørgen Holm (Chime Poppers) og Karl Morten Dahl. "Recomander Tunes In Various Stations EP" (35g Records) er en syrete reise tilbake til den tjukkeste psykedeliske tåka fra 60-tallet, med enkelte soniske avstikkere til flere andre tiår. De skrangler godt de to karene, men som de selv sier, her er melodiene viktigere enn et prikkfritt lydbilde. Og låtene, som har blitt adskillig bedre siden debuten "Find The Tunes/Jamison", har overflod av sjarm. Holm deler mye av de samme inspirasjonskildene som storebror Øyvind (dipsomaniacs), og han har mye av det samme talentet for snirklete, spennende låtskriving. En pop-utgivelse godt på siden av normen, men kanskje nettopp derfor er den svært spennende.

Vegard Enlid
Psyche van het folk, january 2002, belgium
They bring some nice reverb effects mixed with neo 60's popfolk on half of the tracks, but I believe there are some modern indie pop interests in this group too, which are not my personal interest. Worth to check if interested in these fields.
Puls, Norway
Aquarium Poppers med nytt fremstøt Sist Aquarium Poppers våget seg frempå var med en 7" for en tid tilbake. Da ble de, blant annet i Puls, stemplet som Dipsomaniacs kopister. Nå har de spilt inn nytt materiale, som har landa i henda til Puls. Aquarium Poppers er to stykker som lager psykedelisk pop på en liten opptaker på gutterommet. Forrige gang hørtes de ut som lillebrødrene til nevnte Dipso', men nå har de begynt å utvikle seg til noe eget. På sitt beste høres Aquarium Poppers ut som de spiller i samme landskap som salige (på de fleste måter) Syd Barret, men uten å være i samme liga (men det skal jo litt til). På sitt verste blir det vimsete, rotete pop som ikke har noen retning eller mening. Heldigvis lykkes de i større grad enn de mislykkes på den CD'n jeg har fått i henda, og godt er det. Det er riktig morsomt å sitte å høre på pop fra 2002, som høres ut som det er spilt inn i San Francisco under den verste syrebølgen. Altså ikke revolusjonerende, ikke skremmende bra, men godt, solid pophåndtverk, og for de som liker Dipsomaniacs og deres åndsbrødre, kan det absolutt være noe å hente her. Plata finnes i et lite opplag (samleobjekt om noen år?), og fåes tak i via Popopdrops, Hype City , Apartment eller Coffee Annan. Sjekk også ut hjemmesia aqpop.fupp.net.