I smell an ambush! A tribute to Astroburger'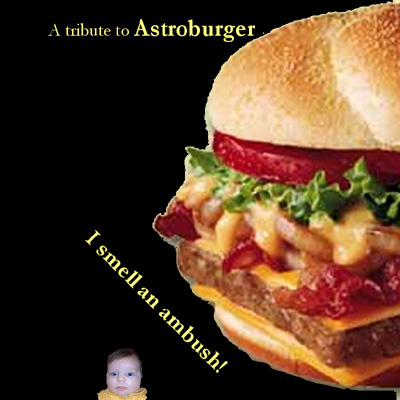 It's out
200 copies. 15 left here at 35g headquarters.
Side A
She's a girl (The Loch Ness Mouse, Oslo)
Not that it means too much (Slowburn, Oslo)
Mona Lisa (Tad Pole, Trondheim)
If I ever knew you (Hug, Japan)
Side B
Quiero estar solo (Thy surfin' eyes, Spain)
The mess you left behind (Ring, Kristiansand)
Compromise solutions (Muad 'dlib, Holland)
Sybil (Roof Rabbits, Norway somewhere)
I wish I had a girl (Hobbits, Trondheim)
Links
Reviews
Popopdrops
35G er etiketten som sto bak Motorpsycho-tributen, og de er her tilbake med Astroburger, ei gruppe vi ikke har hatt noe aktivt forhold til. Ser ut til å ha vært en feil, en av våre mange feil. Uansett, her er hva du har i vente: The Loch Ness Mouse starter med en lykkelig popversjon av She's A Girl. Slowburn tar i bruk orgel, fiolin, gitarer og oppgitt vokal i Not That It Means So Much. Strålende! Tadpoles fra Trondheim får æren av å servere Mona Lisa, ei låt tilogmed vi kjenner, rock med full kontroll på trynet ned trappa. Her nytter det ikke med rødvin. I alle fall ikke av glass. Stønner. Japanske Hug er også med, If I Ever Knew You. Primitiv lo-fi på gitar, bass, trommer og jentevokal. Spanske Thy Surfin' Eyes Quiero Estar Solo, noe spansk med fløyte, fuzz-gitar og jentekor. Må høres. Kristiansands Ring har valgt seg The Mess You Left Behind, komplett med strålende sag. Ruver som vanlig. Flere utlendinger, nederlandske Muad 'Dlib gjør Compromise Solutions. Rock med bomberom-lyd, jentevokal og gitarer høyt og lavt. Roof Rabbits holder visstnok til på vestlandet. Sybil får her en Burl Ives-traktering. Trondheims-gruppa Hobbits avslutter med I Wish I Had A Girl. Vi trodde da disse var T.V. Personalities-purister, men dette er da vitterlig svensk glad-pønk! 10" blågrønn vinyl på 33 rpm. 35G vinner igjen.
Astorburger review
Here at last the long awaited tribute.A Grimful of asha! Featuring 9 different bands from 7 different towns in 4 different countries in 2 different world regions this collection promises caleidiscopic invention and glory.The selected songs span from the first ever released single SHEs A GIRL performed by the Loch Ness Mouse up to a bluegrass version (!!!) of Sybil by the Roof Rabbits.The spanish group Thy Surfing Eyes have not only desiffered the cryptical lines of Don Bingo but also translated them into Spanish!! I want to be alone becomes Quiero estar solo. Rumours say that the cosy bandname "Hug" hides a japanese girlpunkgroup reforming "If I ever knew you".If that is true why don't we do something about it!! Ring performes The Mess you left behind an almost specialwritten song.Its only released before on on of the Krank samplers.Astroburgers aren't sure but believe that they ran into members from Tad Pole this summer but then they were called something else!(typical astro-problem).If that is the case we use this chance to say hello!Tad Pole does Mona Lisa the most frenetical tune on the record.The seasick tune Not That It Means So Much gets specialist treatment by Slowburn.Believe it or not but I guess they will play it even slower and more seasick than the original. A dutch group with the phonetical disaster Muad «dlib as name have delivered Compromis Solutions an old live astro-favourite.The whole collection ends with I Wish I HAd A Girl played by Hobbits.Last but not least.Hobbits are almost entitled to be veteranburgers since they started the first astoburgepage on the net and also once recorded a song about a perfect evening. The title on that one was She even had heard about Astroburger
Ptolemaic Terrascope, UK, 2001
Next in line: A ten-inch tribute to Norway's garage popsters Astroburger called "I Smell an Ambush." It's a comp. which ranges from an eerie whisper to a curdled scream, in other words from the frayed folk torpors of Slowburn and Ring to the volume discharge of the Powder Monkeyesque Tad Pole. Sitting between these two camps is an unlikely creature called a Loch Ness Mouse whose cover of "She's a Girl" is a welcome slice of gtr. pop in an early Fastbacks stylee. . . Speaking of Loch Ness Mouse, their 4-track single has a sparkling cut called "Harmony Highschool", detailing an imaginary place of learning with Brian Wilson as headmaster and the High Llamas as past alumni. The airy vocal lines, piano vamps and heavy gauge gtr. kerplunk reeking of Hawthorn's finest make this punningly-titled "Ceylon Sailor" EP ("sail on sailor" geddit?) a rare pleasure indeed. Their label, the aptly dubbed "Perfect Pop Records", are at [address]