Selfindulgent mono-minds, a motorpsycho tribute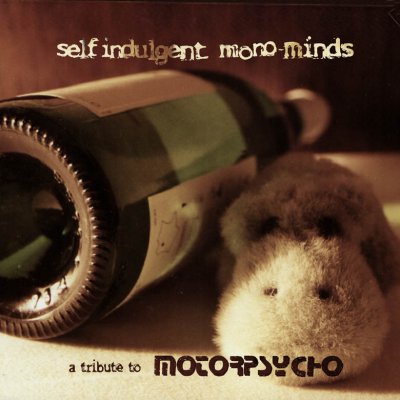 Last update: 1999-03-02
Norwegian, Italian, German, Dutch and Swedish bands pay tribute to Motorpsycho.
Hellu
Original releasedate: 23.November, 1998
The format was double LP + one 10". Edition of 500. It's now officially OUT OF PRINT!

Mastered by Helge Sten at Audio Strype.
Distribution by HS Distribution, Stickman Mailorder (http://www.planetsound.com/stickman/order.html), Motorpsychodelic Trips Mailorder(http://vbh.idb.hist.no/mpsycho/merch.3.htm) and Popopdrops.

Kalle and vbh - 35g records - Contact: vegardh@idb.hist.no
Presseskriv Norge

Denne plata fra det knøttlille plateselskapet 35G Recordings er en
hyllestplate til norske Motorpsycho. Det er en trippel plate, som kun er
utgitt på vinyl. I alt 27 band og artister fra Norge, Nederland, Italia og
Sverige deltar, i noe som startet som en idé i Motorpsychos
'Internet-fan-miljø', og utviklet seg derfra, ettersom flere band meldte
sin interesse.

Av de mest kjente bandene på plata kan nevnes The White Birch,
Dipsomaniacs, American Suitcase og Origami Replika. Bak dem følger det
flust med band av mange slag, alt fra støy til akustisk pop. Det er
Motorpsycho-sanger helt fra Lobotomizer fram til årets Trust Us som
framføres.

Plata utgis i et lite opplag på 500, distribueres av HS Distribution i
Oslo og er å få i butikker av typen Progress Record Shop i Trondheim.

Utgiverne kan kontaktes på telefon 73 50 20 08 / 73 55 95 70 (Vegard) 
eller 917 26 688 (Kalle). Man kan også bruke e-post: vegardh@idb.hist.no.

Anmeldelser:
Adresseavisen, Aftenposten. (Soon to come).

LP1 A:

Twigs - Feel
Katy Penny/Finn Solemdal
Grønnevollen 14
N-5016 Bergen 
NORWAY
mailto:Finn.Solemdal@ub.uib.no

Gloricz Jim - Junior
Produced, engineered and mixed by Roel (with Jeroen)
Recorded at IBB85 and mixed at BCP
Contact:
Roel Jorna
De Clercqstraat 113-3
1053 AJ Amsterdam
THE NETHERLANDS
e-mail: gljim@dds.nl
website: http://listen.to/gloriczjim

Ronaldo - Wearing Yr Smell
Contact:
Francesco Zofrea
Via schipani 26
88046 Lamezia Terme (cz)
Italy
Or grint@atcenter.it

Tacoheads - Frances
Kenneth Tiller
3.Nøste Terasse 6.
3010 Drammen
email: atiller@online.no

Hobbits - Nothing To Say
Contact: 
Vegardh@idb.hist.no
http:/vbh.idb.hist.no/hobbits/

Alabaster Zipcode - Hogwash


LP1 B:

Lawn - Manmower
Recorded April 1998 by Jan Heddema, Groningen.
Contact:
Cortinghlaan 41-A
9716 HS Groningen
The Netherlands
Phone: +31 (0)50-5736646
Or KTBvantVeer@yahoo.com
visit our site: http://members.tripod.com/~the_lawn/

Dipsomaniacs - Kill Some Day
All instruments played by Ø.Holm
Recorded on 4-tracks
Contact:
Ø.Holm
Ole Ross v. 56
7075 Tiller
Norway
e-mail: dipsomaniacs@as.online.no

Lene + Paul - Now It's Time To Skate
contact:
Paul Caspers
 Domplaan 13
 8605 CN  Sneek
 Holland
 caspers@worldonline.nl
Lene Schlanbusch
 Knappavikvegen 1
 5355 Knarrevik (Norge)
 lenschla@online.no
personnel:
 lene- vocals
 paul- accoustic guitar & fuzz-bass
recording history:
 paul recorded the guitar and bass on cassetterecorders @ home in a
tremendous hurry to be able to send the tape to lene in time, who had a
terrible flu/fever but didn't let that stop her from recording and mixing in
her vocals @ home with her brother's 4-track recorder, and sent the final
mix to kalle last minute before the contribution-deadline. this is our
favourite motorpsycho song.



Lasse Marhaug - Home Of The Noise
"Home of the Brave" through the grinder with additional feedback, all
performed with much skill and perfection at the Lobo-Studio by LM, early
98. Special thanks to Killer. Mail: P.O.Box 1402 Leangen, 7002
Trondheim, Norway. Electronic: lmarhaug@online.no

Mrs. Hippi - Heartattack Mac
Played, recorded and produced at Machine Machine Studio by TEM and ThB. Dat
courtesy of Mc Marhaug. Mrs. Hippi appears complimentary of Null Spenn
Records, contact her via KomKol Autoprod, Kirkegata 37 A, 7014 Trondheim,
No-way, e-mail via: nullspenn@hotmail.com


LP2 A:

Linah - Feel
recorded in Smeja, Torsby, Sweden at Christmas 1997 by Linah
Snail-mail:
Lina Sundberg
Norra Köpmangatan 38a
803 21 Gävle
Sweden
email: linah@unforgettable.com

10th Floor Orchestra - The Nerve Tattoo
with guest star: Geir Brunborg
recorded in Montezuma lo-fi studios by Filip andersen
Krank Records
tinnheiveien 7
4629 Kristiansand S
NORWAY
email: Filipa@online.no
url: http://home.sol.no/filipa

Håkon Fretheim - Come On In
Contact:
Håkon Fretheim
Kobbes g 10
7042 Trondheim
Tlf: 73 53 60 06

X33 - Pills Powders + Passion Plays
Produced spring 1998 by Abhoth & X-33
Contact: 
Øystein Power,
Olsvikfjellet 83
N-5079 Olsvik
oystein.power@pki.uib.no - http://rasmus.uib.no/~mpkow/x33

Subday - Mad Sun
Prod. - rec. - played by Furu
Check our-web-service at >http://members.xoom.com/Subday/
Recorded at SubChamber spring '98
contact Subday at furu@eudoramail.com
or (+47) 90 63 76 48

Silly Putty - The Wheel
Contact: 
Øyvind Larsen
Osterhaugsgt. 5b
0183 OSLO
Norway
Or oyvind.larsen@notam.uio.no

LP2 B:

American Suitcase - Sunchild
recorded april-may 98 in Kragerø and Lovenest Studios Oslo
instruments, voices, sampling and production by american suitcase
Contact:
Egil Brækken
Dunkersgate 4A
0357 Oslo
Norway

Skuddermudder - 's Numbness
Produced by Alexander Lindbäck & Bjørn A. Johansen.
Recorded & mixed by Tony Gundersen at 
K2 Lyd, Lakselv, 
May 5. -May 7. 1998. 
Contact:
Alexander Lindbäck
Silfarveien 6
9700 LAKSELV
Norway

80 Optik - Step Inside
Recorded Spring 1998 at Ro-robot audio.
Engineered by Mr. Hardy.
Contact Marc
Lansinkstraat 10
7481 JP Haaksbergen the Netherlands
Or europrom@wxs.nl

Origami Republika - Un Chien d'Espace 
Respectful cd-skipping and dub by Tore H. Bøe A22, Sotormycho Studio, ahoi,
no talent. Contact: KomKol Autoprod, Kirkegata 37 A, 7014 Trondheim,
No-way, e-mail: thboe@online.no

The White Birch - Demon Box
Hans Christian Almendingen and Frode L°es Arnesen - drums, programming. 
Ola Fløttum - vocals, accoustic guitar, keyboards, recorder. Recorded at 
home by Ola Fløttum, spring of '98. Mixed by HS at AVL. Contact: The 
White Birch, c/o Ola Fl°ttum, Hesselbergs gt. 2, N-0555 OSLO, NORWAY. 
Phone: +47 22 37 62 76. E-mail: the.white.birch@one.no Website: 
http://thewhitebirch.one.no


10" A:

Ring - Waiting For The One
recorded by Filip Andersen at 10. Floor
Krank Records
tinnheiveien 7
4629 Kristiansand S
NORWAY
email: Filipa@online.no
url: http://home.sol.no/filipa

Zea - The Skies Are Full Of... Wine?
Recorded at home on 4-track in april.
Contact: 
Anton or Michiel
Uilenstede 32 
1183 AH Amstelveen
The Netherlands.
Or zea@dds.nl
Or visit http://huizen.dds.nl/~zea


Stuck In The Middle - Trapdoor
Recorded at Petter's house late 97.
Fucked up mix by Kalle.
Contact: Oyvindf@hotmail.com

Plankton - 577
contact:
Adrie Kauwenberg
postbus 2045
5600 CA Eindhoven
the Netherlands
or: a3k@iae.nl
produced by Plankton
recorded on 9-4-98 in our rehearselroom
additional recording and mixing on 11/12-4-98 at home.

Slowburn - Vortex Surfer
Recorded in Oslo, Norway, april 1998. 
Contact: phone/fax: +47 22 87 00 68 or fatherman@hotmail.com


Compiled by Karl Morten Dahl and Vegard B. Havdal
Mastered by Helge Sten at Audiovirus LAB
Photography and design by Roel

Thanks to Motorpsycho, the bands, Kjelli, Rolf and Jeanette at Stickman,
Bart de Wit, g-35, Lon and HS Distribution.

All songs published by Motorpsychodelic Tunes DA




Download songs
Kill Some Day - Dipsomaniacs
Mad Sun" - Subday
PPPP - X33
Sunchild - American Suitcase
Vortex Surfer - Slowburn


You gotta hang on to the trip you're on...